[easingslider id="418″]
Engineered Exhaust Systems – Quality Department
"Meeting and exceeding customer expectations the first time….Everytime"
Quality comes first at Engineered Exhaust Systems.

Our Quality Policy clearly states that we are committed to meet and exceed our customer's expectations the first time, Everytime!

We believe Quality is built into, not inspected into every product we sell.

Quality is not the job of just the Quality Control Department.  It is the responsibility of all our employees to insure that we maintain our high quality standards,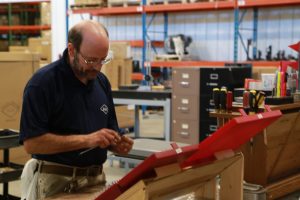 To insure that every part we manufacture meets the highest standards of quality and excellence, EES uses the principles of Advanced Product Quality Planning (APQP) developed by the auto industry. The Quality Engineers at EES all have many years of training and expertise in the following quality methodologies.
PPAP

Process Flow Charting

Control Plans

FMEA

Defect Prevention

Measurement System Analysis

Process Capability

Geometric Dimensioning and Tolerancing

Gage Design and Calibration

Coordinate Measuring (CMM)
"Our customers have come to expect (and rightly so), that when parts arrive at their docks from EES, they meet their print requirements and are ready for production".   Bob Ertl – Quality Manager:  Engineered Exhaust Systems